The Cognitive Zoology Group
Primate Research Station Furuvik
A primate research station is a powerful tool for studying the evolution, origin and structure of the human mind. Through comparative studies of our closest genetic relatives, the great apes, light is thrown on our own cognition and psychology.
About the station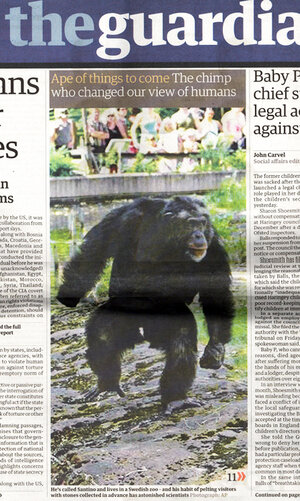 Mapping the mental lives of nonhuman primates is part of the monumental task of defining what it means to be human. What is uniquely human cognition, and what is shared with other species? How are primate minds made? How are human primate minds made? This requires careful behavioural comp­arisons between species. Our research station is designed for the nonhuman part of this.
In addition to a comparative framework we also study the cognition of non­human species without explicit comp­arisons to humans. We do this in order to further our understanding of the involved species and individuals as such. To reflect this fact we call the research of our group cognitive zoology rather than the more traditional comparative cognition.
Lund University Primate Research Station Furuvik is part of the Division of Cognitive Science (LUCS) at the Department of Philosophy. The station is situated at Furuviksparken outside of Gävle, and is a collaboration between Lund University and Furuvik Zoo.
At the station we study chimpanzees, sumatran orangutans and white-cheeked gibbons. The animals themselves decide if they want to participate in the experimental situations. We can therefore be confident that they are enjoying the activities. Hopefully it also serves as mental stimulation, which all apes in captivity need. No invasive research is allowed or possible at the station.
By studying cognition in very similar as well as very different systems, comparative research also addresses the question of how certain minds are constituted in general in terms of, e.g., adaptation, ecology, development and learning. The Primate Research Station Furuvik therefore works in tandem with the Lund University Corvid Cognition Station.
---
NB: Keep an eye out for updates on our photo blog and YouTube Channel.