ETG: Home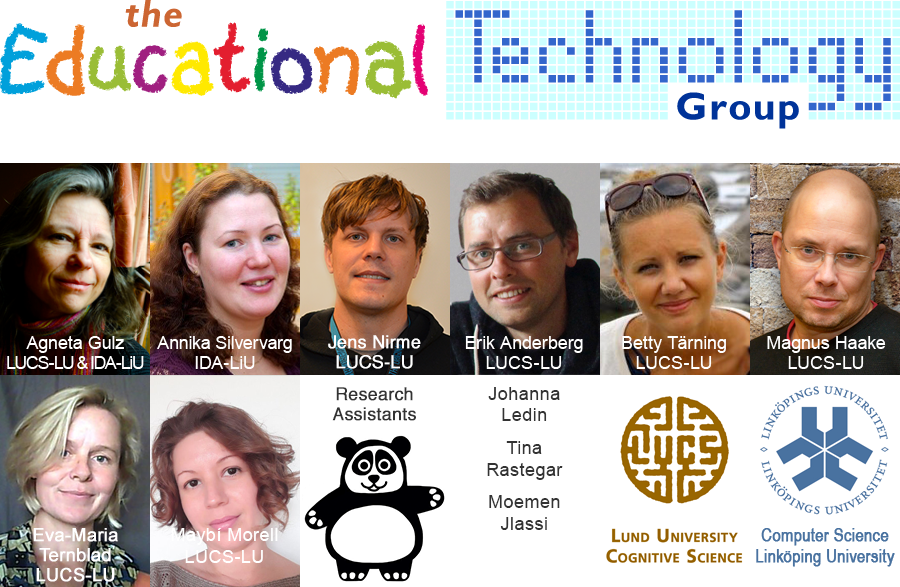 COLLABORATORS
Kristen Blair & Daniel Schwartz, School of Education, Stanford University, CA, USA.
Hillevi Lenz Taguchi & Susanne Kjällander, Dept. of Child and Youth Studies, Stockholm University, Sweden.
Birgitta Sahlén & Jonas Brännström, Dept. of Logopedics, Phoniatrics, and Audiology, Lund University, Sweden.
Björn Sjödén, CLKS – Center for teaching, culture and society, Halmstad University, Sweden.
Marianne Gullberg, Humanities Lab, Lund University, Sweden.
George Veletsianos, School of Education and Technology, Royal Roads University, Canada.
Welcome to the Educational Technology Group
The Educational Technology Group consists of senior researchers, Ph D students and master students from Lund and Linköping Universities. The group develops educational technology systems and prototypes with two purposes: (1) exploiting them as research instruments to explore learning processes, and (2) coming up with pedagogical software with a real-world value as pedagogical tools.
The two purposes are intertwined. The developed software builds on empirical findings about the human mind within the cognitive and the learning sciences. The software is used to extend our knowledge, and the knowledge gained is fed back into the software as we develop it further. Our projects are characterized by an orientation towards school's educational practices and daily activities, together with the use of iterative processes of evaluation and redesigning.
The Educational Technology Group has close collaborations with some other national groups and with groups at two North American universities. Other essential collaborators are a number of schools and preschools, in Sweden and in the U.S., with their students, teachers and headmasters.
Please feel free to browse around, or contact us if you have any questions.
Agneta Gulz, director
Magnus Haake, vice director
---
Magical Garden & Preschool Learning
The Magical Garden Research Platform is centered around a Teachable Agent based play-&-learn game in early math for 3- to 6-years-old preschool children. Using Magical Garden for both research & development, we have taken on a number of research projects addressing early math learning, mentalizing, attention, problem solving, constructive feedback, math & second language learning as well as the continuing iterative development of Magical Garden as a digital educational play-&-learn game with real world pedagogical value.
Data Literacy
Data literacy can be described as the ability to understand and communicate data by means of basic statistics, graphs and tables. In a world producing, collecting and reporting ever more data by the day, the importance to teach and learn these abilities are increasingly essential to sustain the fundamental structures of a democratic society. In this, the Educational Technology Group is adressing middel school education using a set of newly developed software.
Critical Constructive Feedback
Centered around an educational teachable agent software (Guadian of History) for middle scholers (grade 4 to 6) we have addressed various implcations of critical constructive feedback on learning, perseverance, feedback neglect, self-efficacy, etc.
Virtual Reality for Research & Learning
While showing impressive results in procedural training in professional contexts, it is still an open question how virtual reality-technology can be productively applied in K-12 learning? In the Educational Technology Group we use Virtual Technology both as a research instrument and for evaluating real world use, e.g. combining regular classroom pratice with a VR-experiences in Science Center Malmö.